伊達つなむらの'33の観音の寺巡り
While Date Masamune, the founder of Sendai, is almost as famous as the city's gyutan cow tongue, fewer people are aware of contributions of later Date family members. One such Date member is fourth generation daimyo Date Tsunamura. He had a difficult time claiming his legitimacy due to a family conflict. Eventually, however, he was able to again unite his clan and people. He even spread compassion throughout the city by ordering the construction of 33 Kannon temples. Three hundred years later you can still find these temples resting around Sendai, though many people have never even heard of them.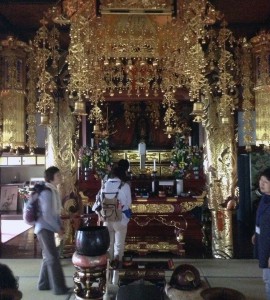 Kannon is the Buddhist goddess of mercy. Similar to the Sendai Daikannon Statue, these Kannon temples were created to protect Sendai and its citizens. The 33 temples relate to the 33 forms Kannon is said to present herself in. Currently there are 32 temples as one was destroyed in the 11 March 2011 earthquake and tsunami. There are several easily accessed temples on the opposite side of the Hirose River at the edge of downtown, while others are located farther in the city limits or in other off the beaten path locations. Because of the number of temples, walking them all in one day seems improbable. Bicycle or public transportation is a better option, but car may be best if you want to visit them all in a short time. There are three ways to experience your own pilgrimage.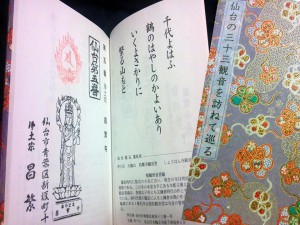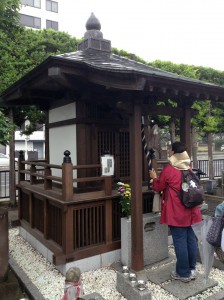 First, I highly recommend a Kannon pilgrimage book. The book makes a great souvenir with its traditional paper cover. Inside the pages are locations and brief historical blurbs about each temple. On the opposite side is a blank page to receive souvenir stamps from each temple you visit. The book is about 2500 yen and available at local bookstores. I bought mine at Ayumi Books near the Disney Store. Or you can plan your own trip using this website I found http://miyagitabi.com/link/report/33kannon/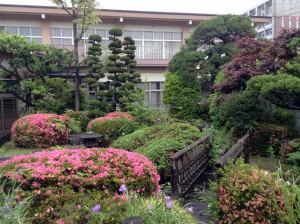 If you have the time though, your best option is join a group of Sendai pilgrims.
A nonprofit organization (http://www9.ocn.ne.jp/~eikaiwa/rakuyuu.html) hosts three walking tours a year. For a 2500 yen participation fee you can join nearly 50 other locals visiting about 11 temples per walk. The event will take several hours. The signup process, information, and pilgrimage are in mostly Japanese. The NPO has some excellent English speakers, so if you email them you can probably receive some assistance should you need support.
Temples, with their architecture, gardens, and history, provide a fun outing in Japan and here in Sendai, too. If you are interested in learning more about the 33 three hundred year old secrets in Sendai, why not try a Kannon pilgrimage yourself?
(Written by Justin Velgus)
伊達つなむらの'33の観音の寺巡り

ジャスティン視点で伊達つなむらの'33の観音の寺巡りの
取材旅レポート。