You can see it from the top of Aobajo, the remains of Sendai's once proud castle. You can also see it from the observation deck of AER Building next to Sendai Station, or actually almost any high-rise in the city. Located next to a golf course and the Best Western Hotel in Izumi Ward is the towering Daikannon Statue. Both an important architectural and religious wonder, the Daikannon is well worth the 30 minute bus ride from Sendai Station and the modest 500 yen entrance fee.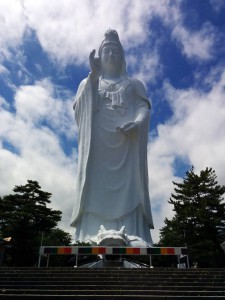 Approaching the Daikannon Statue, you are mesmerized by its size. In fact you'll have to step all the way back to the opposite antique and gift shop to fit the entire statue in one picture. Completed in 1991, the 100 meter tall Daikannon statue is currently listed sixth in the world according to its height. On a clear day you can see the Pacific Ocean from the viewing windows on the 12th floor. At night red lights flash warnings to any low-flying aircraft. Once you get past the sheer scale of the statue, you can begin to appreciate its more spiritual connection.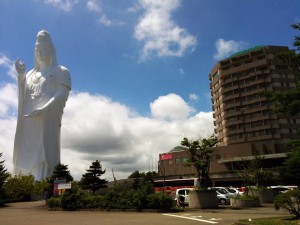 Kannon is the Japanese name for the goddess of mercy known as Guanyin. This deity is one of most popular in Buddhism and well-known throughout all of Asia. The pure white statue with a resting face creates a peaceful atmosphere. In the statue's right hand is a jewel which grants wishes, while the flask in the female deity's left hand is filled with the water of wisdom. Spiraling down the statue's inner staircase are floors of 108 miniature Buddhist statues. There you can pray to remove the 108 earthly desires. Buddhist protective gods, a temple area to pray, as well as religious charms available for purchase can also be found inside.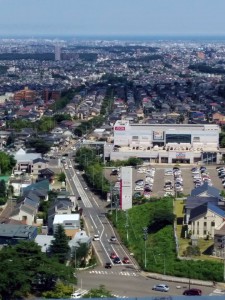 Similar to Japanese temples, anyone regardless of religious faith or belief is welcome to experience the Daikannon. The modern marvel of engineering has been watching over Sendai for over two decades and is also ready to listen and assist in any difficulties you may struggle with. Whatever the reason for your visit, don't miss this unique attraction while you are in Sendai.
By ベルガス ジャスティン
仙台大観音レポート

市内遠くからは見ることあれど、なかなか足を運んだ人は少ないかもしれません。
市民ライタージャスティンがレポートしてくれました